6193 views

montbrú, cheese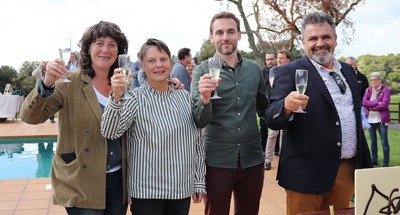 We are celebrating our 30th anniversary in top form, coinciding with the passing of the baton from Pere Antúnez, who has led our cheese company for the last three decades, to Oriol Antúnez, the second generation of the family. At Montbrú we currently export our products to over 20 countries and produce more than 25 types of cheese, mostly made from goat and buffalo milk.
To commemorate this anniversary, a very special celebration was held at the Montbrú farmhouse, to which all members of staff, both past and present, were invited. The event was also attended by colleagues from the cheese and livestock sector, as well as by the Right Honourable Teresa Jordà Roura, Minister of Agriculture, Livestock, Fisheries and Food of the Government of Catalonia, who stated that "This ministry works with two goals in mind: healthy, safe, high-quality food and territorial cohesion. Both of them have been achieved in spades on Montbrú's 30th anniversary. Thank you Imma, Pere, Oriol and Pere Junior for the example you set for the sector and also for the country."
The celebration was also attended by Mr Dionís Guiteras, Mayor of Moià and Vice-President of Barcelona Provincial Council; Alba Camps, Delegate of the Government of Catalonia in Central Catalonia; and Mr Ramon Lluís Lletjós Castells, Director of Territorial Services in Central Catalonia.
Comments (0)
No comments at this moment