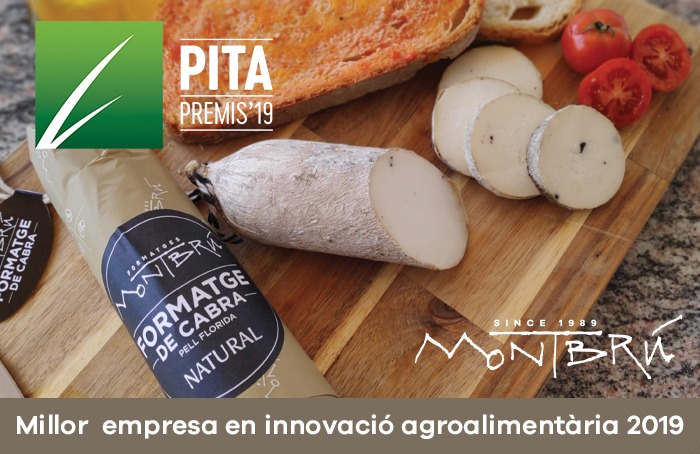 Formatges Montbrú has won the Award for Agri-Food Technological Innovation (PITA) and has been recognised as the best innovative agri-food company in Catalonia in 2019, thanks to its new product, the Cheesefuet XXL.
Cheesefuet XXL is a goat's cheese produced in an entirely new way through a Montbrú-patented formula that combines different cheesemaking techniques applied to the rennet enzyme, producing a cheese encapsulated in a vegetable casing. The cheese is then matured for four weeks, enabling the generation of the exterior mould that gives it the woody and mossy aroma that makes it so special.
The ceremony of the 8th Agri-Food Technological Innovation Award (PITA) was held yesterday at the Manresa Technological Museum, on the occasion of the Agri-Food Innovation Day. The occasion was presided over by the Right Honourable Teresa Jordà Roura, Minister of Agriculture, Livestock, Fisheries and Food of the Government of Catalonia, accompanied by Mr Carmel Mòdol, Director General for Food, Quality and Agri-Food Industries, and Ms Alba Camps, Delegate of the Government of Catalonia in Central Catalonia, among other dignitaries.
The PITA comprises three categories: the Farming Award, the Agri-Industry Award, and the Young Innovative Entrepreneur Award. A total of 23 innovative agri-food initiatives from across Catalonia were submitted for the 8th PITA. The entries were evaluated by a jury presided over by Mr Carmel Mòdol and composed of representatives of the Autonomous University of Barcelona, the University of Lleida, the Institute of Agri-Food Research and Technology (IRTA) and the Catalan Ministry of Agriculture, Livestock, Fisheries and Food.
Comments (0)
No comments at this moment